Who is Who
WHO IS WHO IN BULGARIAN-AMERICAN COMMUNITY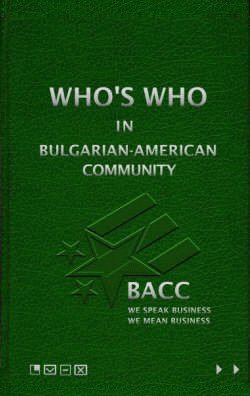 The Who's Who in the Bulgarian-American Community (Biographies & Credentials) is the new biographical directory of Bulgarians living abroad. It is published by the BACC, but the inclusion in it is not a part of your BACC membership. Reputable Bulgarians from around the world who are willing to document a digital legacy for current and future generations are welcome to participate. BACC members have the opportunity to be presented in the Who's Who directory at a discounted rate.
The Who's Who publication presents the bios and achievements of distinguished fellow Bulgarians living in the United States and around the world. This archive includes biographical information, occupation, education, credentials, achievements, memorable photographs, videos, and much more.
If you would like to be known in the Bulgarian-American community for who you are, you should consider joining the Who's Who in the Bulgarian-American Community virtual cyberspace directory.